I got a package today from a friend of mine Eddie; we shared a house near Dublin in Ireland. The package included a few little homely goodies like King Crisps (chips)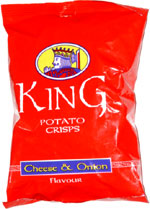 , Christmas card and picture of me, him and another mate in Barcelona a few years back. However to say thank you instead of writing an email or calling I made a short Flash video in facebook of me eating the crisps and thanking him, nice touch I thought.
Now for me a few thousand miles from home video has been a huge lifeline. I use skype mostly to chat to friends and family and we can see each other. Sometimes I watch some of the premier league games with the lads on a Saturday via skype and the quality is not that bad either.
We have a Christmas tradition between close friends on
Stephens days (26th of December) we get together and play board games like scrabble, Risk etc, But I can't be there so I will join in via video link so I can enjoy the festivities.
As you can see I'm a huge fan of video and I do believe that more and more companies should be using video for business purposes (1) it will you money on travel (2) it save you time, (3) it can win you business. It has for me. I won a contract in New York, but the client wanted to use a local team so they could meet face to face and get to know who they where doing business with. When I conducted the meeting via Adobe Breeze they were very impressed, and are looking to use the same system as 352 Media.
When Steve Lewis http://www.proformancemkt.com/ needed to review some CD sleeves that he had sent to my office, as he can't accept business mail in Iraq. I was able to show him the sleeves via video so he could choose the right one that would complement his product. Even Hospitals have been using telemedicine for years for remote patients that cant make it to larger hospitals for check ups etc. See it can even save lives.
So do your sales staff and clients a favour and use video it will save your company money that you can in turn pass on to your loyal clients.